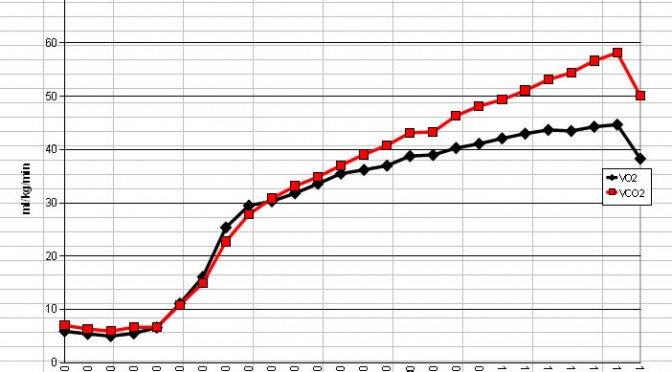 The Sprinter With No Base.
Recently I got a phone call from a parent who's daughter had been struggling to improve over the last few seasons. She's a swimmer and specialized in the sprint events. Not the triathlon variety of 'sprint', but real sprinting. 50 yard free, 100 yard butterfly, etc. The swimmer had gotten increasingly frustrated that regardless of how hard she worked, her times kept slipping.
Knowing the swim team, I knew she was in good hands when it came to technique and workout structure, so I suggested that she go get tested so we could see what's going on with the engine.  Girls tend to peak earlier than boys in sports, but those tell tale factors weren't there.
So she headed over to Memorial Hermann's Ironman Sports Institute and got a VO2 max test done on the treadmill. In my discussions with her coach and the team, a few others decided to test as well.  And the results were fascinating.
Turns out our sprinter had no aerobic base. And when I say no aerobic base, I mean NONE. Tests showed that she crossed her lactate threshold about the same time the treadmill was turned on (when the red line surpasses the black one).  She also was able to produce an absolute ridiculous amount of lactate at max effort. When I first saw it I had to scratch my head. I'd never seen anything quite like it. So then I started asking a lot of questions to her coach and her parents.
Seems the only thing our sprinter was doing was sprinting. And while that's a big part of the equation for someone who rarely races longer than a minute, there still needs to be something to hold that speed up.  In my discussions I found that this life long swimmer started her career in summer league (neighborhoods compete against other neighborhoods in the community for those who don't know), and this particular league is one of the largest in the country. So they take it very seriously. They also only race very short distances (25 – 50 yards max) so there is never any need to prep for longer stuff. She started down a road that doesn't emphasize the fundamentals and focuses solely on the sprint and then progressed to the bigger club programs of USA Swimming.  And while the knowledge base and volume grew substantially, the all or nothing mindset did not. This swimmer worked hard in warm up and worked harder on everything else. Never backed off the gas.  So much so that the aerobic base was never developed. And the signs started to show it as well. She was fading bad at the end of workouts, trouble recovering from any exercise, and falling apart at the end of races.
I know what you're thinking, working hard is a good thing in the pool, so how on earth could the hard worker and sprinter be suffering from it? Well, I think the combo was the downfall. If you're a young swimmer and you work hard, you typically work hard across a broad spectrum of distances (50's, 500's, 800's, 200's, 1200's, etc) and therefore energy systems. But if you only sprint, and the workouts are all sprinter workouts (short distance, high intensity repeats) then you never get that balance, and begin to compound the problem.
So we blocked out a month in which she did nothing but aerobic efforts. Not a drop of sprinting. The swimmer was given specific directives to swim at a given pace, or slower and the volume was cranked up. It wasn't particularly enjoyable for someone who even works the warm up hard, but she did it. And then we tested again.
As you can see from the graph, everything began to change in just a few weeks. LT started to fall in line with teammates,  and without a drop of sprinting for a month, her times started dropping in competition.
It was a learning experience for everyone including myself. When I stepped back though, it made sense. The ability to develop your anaerobic systems are actually very limited relative to the vast amount of fitness to be gained. This is one of the reasons why Alexander Popov, one of swimming's greatest sprinters, was known to train as much as 20,000 meters per day for a mere 19 second race.
So what's the takeaway? Well, the next time you hear someone say that "everything you do in exercise, regardless of intensity, helps you aerobically", you will understand that it doesn't.  In fact, it can do quite the opposite.
If those who compete for 60 seconds need to dedicate time to build the base,  where does that put your 10 hour race? You might have some building to do…