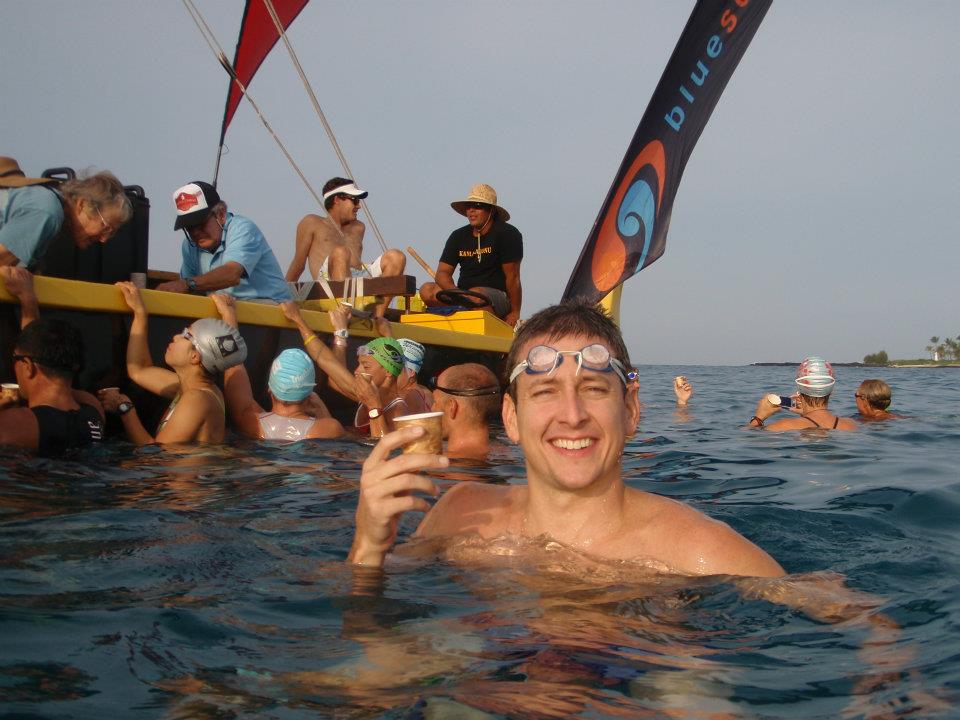 Advice for Kona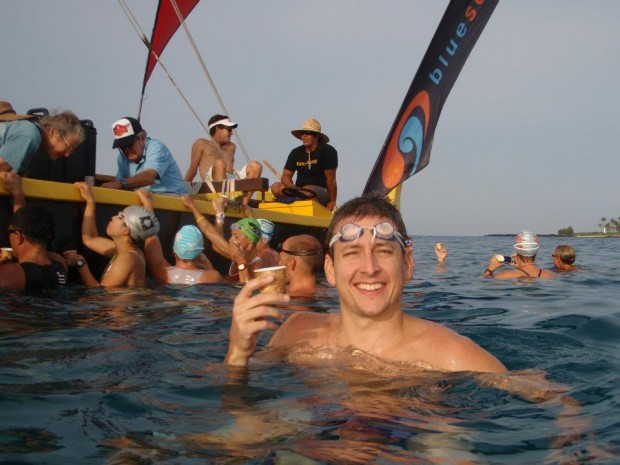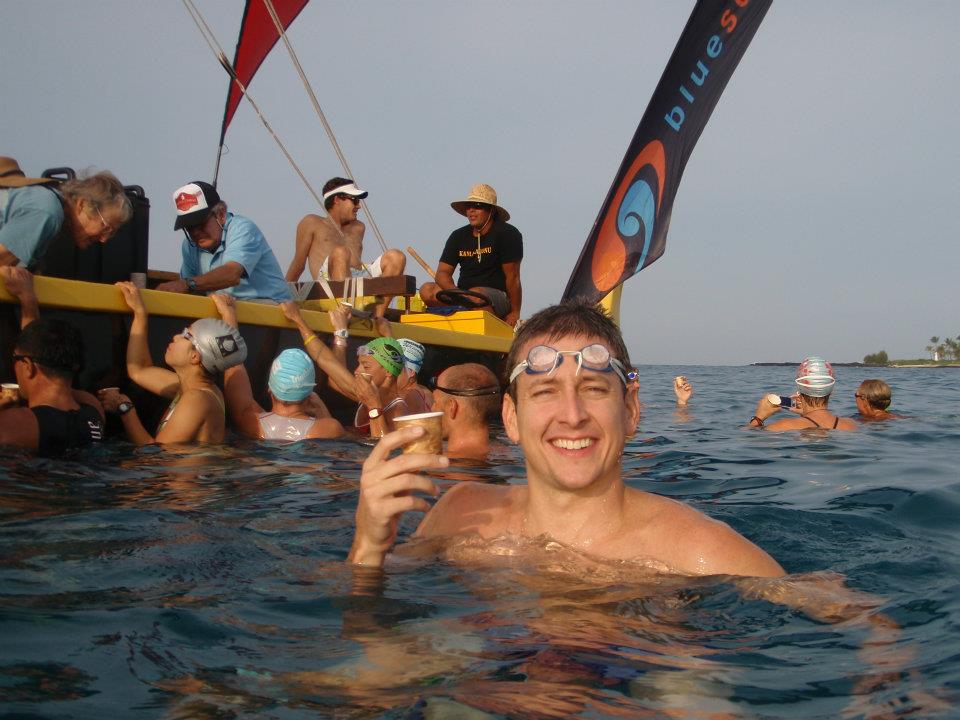 It's Kona time! Some years I'm there, and some years I'm helping others. This year I'm just a fan. If you're heading to the big island for your first shot at the biggest day in our sport, here are my thoughts.
This race, because of everything that it is, demands 100% of your attention. Not because it's the biggest race in our sport, not because it can get so damn hot or so windy, not because the fastest athletes in the world are there, and not because everyone will be following you both there and online. It's because of all of it. At the same time. On the same day. And that's what makes Kona so special. It's one of the greatest spectacles in all of sport for these reasons, and you're about to be part of it. I've been blessed to race this race a few times and this is my advice to you…..
Prerace. One of the first things I noticed was how many athletes are out training. It's constant from day to day. ALL DAY. Take a closer look though. Athletes wear a wristband and the thousands of spectators that are also out training do not. Don't fall into the trap of thinking everyone out there is racing.
There are a few musts though:
1.)Get at least 1 morning swim at dig me beach (the start). Tons of activity, lots of pro sightings, people handing out free stuff. It's part of the experience.
2.)Hit all the expos. Last year there were at least 4 separate areas that had an expo or mini expo. Bring a bottle of water (stay hydrated!!) and check it out at least once. Product debuts, pro sightings, free stuff, fun.
3.) Grab a cup of coffee in the middle of the Pacific. Swim out to the sailboat with the Blueseventy flags. They will have free coffee waiting. Probably the most unique cup of coffee you will ever experience in your life. Tell Mike Orton of Blueseventy  I said hi.
4) Take an easy jog on Alii drive. There are a few hills in those first miles. Get to know them. Stay hydrated.
5.) Get a peek of the Queen K. You don't have to ride/drive the whole course if you don't have time, just get an understanding of what's ahead of you. The biggest challenge (wind) won't tell you what it's gonna do until raceday anyway.
6.) Get a meal at Lava Java. Somehow it has become THE hangout. Good chance you'll dine next to World Champions.
7.) Get a good look at Palani hill from the bottom looking up. Remember that for the race.
8.) Get some souvenirs early. They can sell out quick, and remember there are side shops that sell the merchandise too. Not just the big tent.
9.) Soak up the start. The drums, the warriors, the crowds as far as you can see, the helicopters, the jumbo-tron. Enjoy!
Swim:
A few races I did as a pro aside, this is the most violent swim I've ever done. Be prepared. In years past there have been pro women who suffered broken ribs and a dislocated jaw, among other things. Keep in mind who you are swimming with (a bunch of Kona qualifiers) and seed yourself accordingly. Back and away from the pier is probably a good spot if swimming isn't your thing.  Losing a few feet or pausing 3 seconds won't change a thing. Sight regularly, but relax in the swells. The last time I was there,  I was moving side to side by 20 feet or more as swells came through. Don't fight em. move with em. Relax. The salt will eat up your mouth, so try not to let too much seawater in. Coming back in to shore, remember the coral is right up against the beach, so don't try and stand up too soon and cut your feet. swim till you can touch with your hand.
Bike :
The first few miles are tons of fun with the big crowds through town. Wait to look at your heart rate until you head North on the Queen K. with all the hills and all the excitement, everything will probably be pretty screwy until you hit the Queen K and head out of town. Soak up the fun!
Once you hit the Queen K, you will most likely have calm winds at first and an ever so slight downhill ride for a few miles. This is where you need to settle in and get into your groove. Don't get tempted into pushing the pace here because you feel good, because it's a trap. further down the Queen K the winds pick up and the hills start to show up. Save your energy. Also: sunblock. You're closer to the equator. You'll burn quicker.
Once you make the left turn (and steep downhill) off the Queen K, you will start the climb to Hawi. This is where you will really (usually) start to feel some of the famous cross winds. Try and relax as much as possible and don't wear yourself out on the climb. Don't forget to drink and fuel in this section. With all the climbing and all the winds, it will seem hard to take a hand off the bars to do anything, but you can't get behind on hydration/salt/nutrition. The trip back down can be very stressful. The workload will be a bit easier as there are tons of downhills, but the added speed with those cross winds can mentally wear you out. Focusing on staying calm and relaxed…and upright. And watch those cones. People fight so hard to not get blown off the road that they forget and crash on a traffic cone.
You'll get to the bottom, take a left up the steep hill and then enter the toughest section of the bike in my opinion. No shade, sun high in the sky, winds have picked up, and that long black ribbon home. take inventory on yourself to see if you're getting a sunburn. Prepare accordingly. This is the section that you will probably feel some highs and lows and the mental doubt will kick in. (I actually cried in this section the first time I did this race). Stay calm and relaxed and don't fight the wind. Just accept it. Zen. Instead make sure your nutrition/hydration is working and on plan. this is a good place to make changes if it isn't. Don't wait til you're crawling on the run to realize something isn't working.
Run: Be sure to compose yourself in T2. you will come out of T2 and run part way up Pay 'n Save Hill (Palini) to the hot corner. Its not overly steep, but you still don't want to get winded or over extend yourself right at the start, so take it easy. You'll make a right and then make your way back down onto Alii drive. this section you'll get to know pretty well leading up to race day, so pay attention to the size of the various hills beforehand. as you run this section remember that this run doesn't even START until you get to the Queen K. All the crowds and energy, the great ocean scenery is all a trick. Don't get trapped into pushing a good pace and working this section just because people are watching. You will pay a very dear price if you do. Stay as comfortable and relaxed as possible as you are about to enter a much much different course, and the beginning of this race.
Palani (or Pay 'n Save) hill is very steep. I would recommend walking it if you're not a runner and bracing for it if you are. From the words of 6 time champion Mark Allen in a recent Lava interview, "At the bottom of Palani Road, before heading out of town, I still thought I had it in the bag. At the top of that same hill only a few minutes later, the steep pitch and the heat of having a tailwind left me weak-legged and once again certain that I would not be the champion."
At the top of the hill you'll make a left onto the Queen K and the crowds will disappear, leaving just you and your own personal demons. My wife went up there one year and was shocked. All she heard was the squishing of shoes and felt the stifling heat. I used the ocean views and the pros racing to the  finish as a distraction from the endless ribbon of blacktop, but you may have other ways to deal. If you have a partly cloudy day, stay reserved while the sun is beating down on you and push yourself more when the clouds cover the sun. This is likely the moment in the race where you will find out what you're made of. Keep in mind that in this section YOU WILL NOT RUN IN SLOW MOTION TO INSPIRATIONAL MUSIC AND A DEEP VOICED NARRATOR.
From a conditions perspective, things will begin to get better as the sun will start to set and the temps will cool. If memory serves, it gets dark around 5:30pm, or about 10 and a half hours into the race, so unless you break 10:30 you'll be running some in the dark. It's much more pleasant then. The Energy Lab is a steady downhill to the ocean, so keep that in mind on the return trip out of the Lab. When you get back into town you will hit the hot corner, which is only a few hundred feet from the finish. As one last cruel joke you will turn left away from the finish and run 1 more mile. In the final meters along Alii Drive, just remember they are taking your finish pic, so smile when you enter the finish shoot! and don't look at your watch!
If you can make it back for midnight, I highly recommend it.
Also, the next morning, Get to the merchandise tent EARLY!! I thought I got there early and waited an hour in line before I could even get inside the tent and some stuff was already sold out. Standing in the sun is the last thing you want to do, so set your alarm.
Wishing you all the best out there!