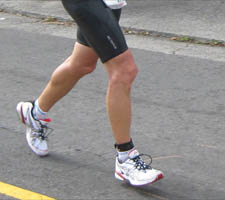 Ironman Texas Run Course Preview
So you've been in the water, gotten through the bike, and now it's time to run. The third and final piece of my Ironman Texas preview is the run course. As with the swim preview and bike preview, I'm going to walk you the athlete through the run course and finish with a play by play for the spectators.
You finish the bike back at Town Green Park, grab your stuff and hit the tent. As you exit the tent you will immediatlely head west on along the waterway, right next to where you put in your final strokes for the swim course. There are a few things you need to be aware of very early on this course. First is the heat. Odds are you will get off the bike and feel that wave of heat and humidity within the first steps of the run. Having said that though, last year was unseasonably dry.  Looking at normal mid May though and the chances of humid conditions are closer to 90%. Brace yourself for it and plan accordingly.
You will run about .3 of a mile along the water way and you will leave the pavement briefly for a quick stretch on a dirt trail/road. It's not very far and it's not hilly, so the reason I bring it up is for those people with drain holes in the bottom of their shoes. As the race carries on (or weather permits), parts of the dirt will turn soft into mud, and if you have drain holes you need to avoid the mud completely or those drain holes will get plugged up and you will squish through the remaining 25.9 miles.
Immediately after the dirt, you will run up a very short but steep hill.  It's really more of an embankment. About 6-8 steps total, but it will eat your lunch if you are still finding your running legs. I would suggest that first timers or weak runners walk up that sucker the first time.
Once off the waterway, you will wind through a series of parking lots that can provide some shade. As you exit that section you will find yourself at an aid station. Like all Ironman races, they will have all kinds of goodies for you. Great place to regroup. You'll exit the lot onto Lake Woodlands Drive and make your way west to the Lake. The bridge that you saw first thing in the morning will now act as the only real "hill". It doesn't seem like much, especially for those who live in truly hilly environments, but when you add the heat and humidity of the day, this hill can be downright nasty. Manage it accordingly. You'll drop into Northshore Park (Swim start) and do a quick loop around the park before you return back onto Lake Woodlands Drive. It will be here that you will get your first taste of the crowds and support you're about to encounter on the course, as Lululemon will be there to get in your face, complete with a DJ to spin the music.
The west side of the course, while still lined with spectators, is a much quieter. And while The Woodlands is loaded with tall trees, shade in this section will be hard to come by. After your run on Lake Woodlands, you'll take a left on Panther Creek, and while still generally flat, you will notice the constantly changing gradients along this road. Panther Creek finishes on an uphill to Woodlands Parkway, at which you will switch from the road to the paved bike trail and head back east. This section on the trail, slightly downhill to the lake will be your only guaranteed section of shade on the entire course, as it is heavily treed. It's a blessing and a curse as you will get the much needed shade but will lose any and all breeze that you had.
The trail opens up at the lake where you will be met with another aid station (I'm not detailing each aid station as they shift from year to year. So don't freak out and think this is only the second one one the course. I believe this is the 4th so far), cross over the spillway and begin running uphill towards east shore.
For those not familiar with the area, East Shore is a section of The Woodlands that was mostly fashioned after Charleston, South Carolina. Lots of very high end homes that are plantation style or row house style, with a few other styles mixed in for good measure. For some, East Shore will be a place of great distraction and enjoyment, for others, East shore will be nothing but suffering. As you enter East Shore you will make a left onto East Shore Drive which will take you out to the lakefront and have you run along the water for about a mile. There is absolutely no hiding from the sun, but you will get a guaranteed breeze off the water. For those who will be finishing at night, without a strong breeze, be prepared for the gnats that come off the water and get into your eyes, nose and mouth. Yum.
After touring the water's edge, you'll run north on a long straight away back to the waterway, take a quick right up a hill and then enter a pathway to return onto the waterway. Pay attention to the path entrance as it is curbed. While that isn't a big deal jogging it the day before, on race day, will jello legs and other runners around you, it might be a bit trickier. so take your time and be deliberate.
It is at this moment, when things start to get good at Ironman Texas. You are essentially at the 5 mile mark and begin your run on the waterway. A short downhill shot to water level and then approximately 3.7 miles of motivation. You see, because of the proximity to parking, restaurants, the finish line, shopping, groceries, hotels, bars, and the freeway, the waterway is where the lion's share of the public comes out to get in your face for the run. There will be plenty of crowd support including the now infamous "hippie hollow". So your motivation will be at it's highest through this section. In fact, if you are walking/jogging the run, I would suggest doing the bulk of your walking before you get to this point, because people will motivate you to run. Add to that the beauty of this section and your memories of this part of the run will continue for years to come.
You start on the south side of the waterway, and as you make your way east, under the finish line and out towards the highway, you will make a bit of a cloverleaf out onto the road, right turn to run over the waterway, and a left sweeping turn to put you back down onto the north side of the water. It's from here that you will have an out and back run past the Anadarko tower (and it's sister tower), past Landry's Seafood (read: more spectators!) and turning around by the mall. In terms of terrain and difficulty, the waterway section is almost entirely flat and fast with little to no shade.  Once you make that turnaround it is normally a straight shot west back to transition, where you start this party all over again. (This year 2015, however, there is a hotel under construction blocking a very small piece of the course. So this year you will turn with the finishers up onto Waterway Square Ave, then down the STAIRS next to the big fountain. Yes you heard correctly. There wasn't another way around it. So you'll be trotting down a set of stairs.) Everyone has to do it. just be careful. On the 3rd and final loop you will return from the mall turnaround and instead of running straight back, you will retrace your steps back up off the waterway (where you previously came down on the north-side), head up next to the giant fountains and head to the finish located on the bridge next to all the restaurants and bars.
For Spectators: This is an easy one. If you don't live in The Woodlands, then I would suggest making your way down to the waterway. You will have LOTS of company and the energy levels will be high. Hungry? You have at least a dozen or more options within walking distance. Want a cold beer? There are some great spots ON THE COURSE for your to drink and cheer. Need a break and want to do a little shopping? You have shopping galore all in that area. Plus, after watching the runners go through their loops on the course, you merely need to walk a few feet down the waterway, up the stairs to the bridge where the finish is located and you get a front row seat for that too. Which is especially great if your tracking a few people, because going back and forth means just a few feet of walking.
It's a great day, and the run course is a great way to finish this race in style. Good Luck.