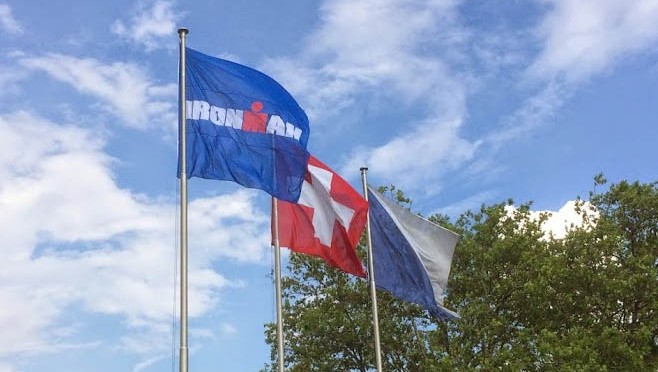 Ironman Switzerland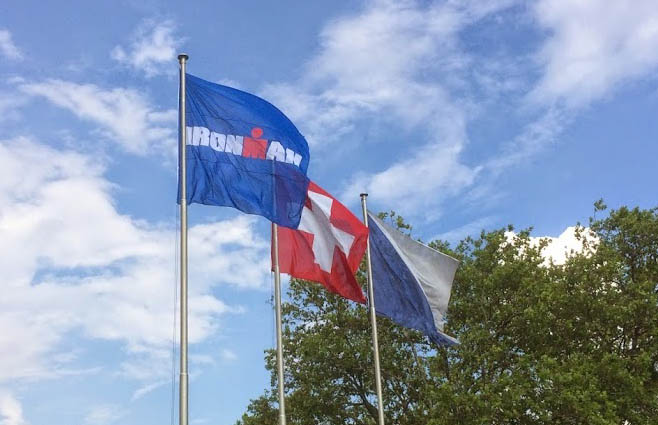 As is tradition, below is a brief (well.. maybe brief compared to the old testament or Tolstoy) recap of my experience at Ironman Switzerland. All in all it was a GREAT trip, from which many stories were born that I won't tell here. Don't worry though, I am bound to cough up a few stories the next time I run into you until you are bored to death. Racing overseas presents it's own challenges on top of the typical worries of the race itself. So some shy away from the idea for fear of the unknown. I think most who came on this trip found out that it's those unknowns that make for such a incredible experience. Anyway, on to race day.
I got up at 4am which is earlier than normal, but we had a 2mile walk to the race site as bus lines and some train stops were closed due to the race. Not an ideal situation, but again, it's the curve balls you get that make the race so unique. I got straight to eating breakfast when I got up. 2 hard boiled eggs do the trick. The hotel we stayed at was very accommodating and had some ready for me the previous day as the only people awake at this hour where the good folks in the street who hadn't gone to bed yet. Since we had to walk to the race, I used the stretch cords in the hallway to warm up the arms a little. After that we loaded up the gear and started the hike around 4:45. Got to the race site and began prepping for the day. Added the food and liquids to the bike and bags, pumped up the tires, etc. Unlike other Ironman races I've done, inside transition the security was pretty lax. no one monitoring bikes or bags, no escorts, but still a good number of volunteers standing by in case you need help. Finished up and headed to the swim start which was a short walk north of transition.
Part of the challenge/fun of international races is that announcements are not always in English. In the case of Switzerland, they had 3 announcers for the race. One who spoke French, one German, and one English. So as directions started getting told to us rapid fire, we just had to wait until the friendly Brit took the mic. I put on the wetsuit and got into warm up. Immediately I was struck by the beach conditions. Rocks. A beach run in start into a rocky shore? Oh shit. I'm gonna break a toe.
Put on the Aquasphere wetsuit and got in for the prerequisite warm up swim. Water was cold but not shockingly so. The temperature problems were back on land as it was cool and raining.
This race made a change to their start about a month prior in which the mass start was to be broken in 2 waves. The first wave was for those who could swim under 70 minutes, and then 5 minutes later, everyone else. So we were packed into 2 corrals and it was a pretty aggressive situation in the front of the first corral. While the front of the start is always aggressive, there's something about people standing on firm ground that gives them that little extra pushiness. When they released our corral to line up, it was slim pickins for good spots. The beach wasn't perpendicular to the course. There was a bit of a bend on the shoreline so that those who lined up to the left (north) were further out than those to the right. Not seeing any good way to get over there, I just wiggled my way to the front line, but well to the right of the prime spot.
While we waited to start, I sized up those around me. I asked the swimmer to my left what his goal was for the swim. He told me that he was shooting for a 55 min swim, so "Don't run over me". Wasn't sure if he was being sarcastic or not, but replied, "Don't worry, I will probably just swim around you, not over you." Ha!

We got the 30 second warning in 3 languages, and then the gun fired. I took 3 very painful steps (rocks) into the water and then just thought screw it, start swimming so you don't ruin your feet. Thankfully, I think most everyone else had the same thoughts as I didn't get trampled. About 5-8 strokes and I was free of the fighting, and about 3 minutes later I had dropped everyone on my aching feet. Breathing to my right all I saw were the buoys and then gap to the person behind. Once I took a breath to the left however, I saw my problem in the form of a pack of about 15 people ahead of me. This pack was born from that far left starting point. I moved over to jump in the pack and noticed fairly quick that I was chipping my way through the group towards the front. I made the first buoy around 8th and then the second buoy in third. Right after the 2nd turn, the pack fell apart. There were 2 guys in front who I was drafting off of and no one behind. Pace was very comfortable, but to get around these two and drop them would require considerable effort, so I sat on their feet and let them pull me out of the lake. Towards the end of the first loop we passed the first pack of pro's. Rounded the turn for the run up and over the Island to dive into the second loop and ended up passing guy #2 in the process. Unfortunately guy #1 didn't swim very straight and that was a pain in the ass to deal with, so when guy #2 came to re-pass I was more than happy to oblige. Right before we hit the first turn buoy on the second loop, we passed a rather large pack of pro's. The final turn to shore brought us into the back end of the swimmers working on their first loop and it got a bit messy getting around them all. Turned into the finish area and ran up the ramp 3rd (11th including the pros). The time (53 min) tells me the course might have been a little long.
Transition was uneventful except for the fact that there is no help at all. No wetsuit strippers, no one helping to look for your bag, no one in the tent helping you there. Because we couldn't take the wetsuit of until we got into the tent, I grabbed collar of my wetsuit with about 15 feet to go in the swim and took in a large amount of water. The Phantom fits like a glove, so the water stayed in the suit until the tent and acted like a lubricant when it was time to get it off. Everything went smooth in T1 except that I forgot my shades. Didn't realize it until I had already handed off my bag, so it was going to be 112 miles without eye protection. Considering the clouds and rain, I wasn't too concerned.
My goal with this ride was to ride a little easier than I normally do. I figured the climbs could become a problem on the run if I let my ego dictate the effort. So I lowered the HR goals by about 5 beats, figuring I'd make it up on the run. To my dismay though, my legs were flat from the first mile. My first thought was all the walking, but in hindsight, I know it was the cool temps and rain. Anyone who rides with me through the winter knows that I don't perform well in cold temps.I've come home from rides and been whipped the rest of the day from a simple 60 mile ride. It got to the point this winter that my wife Amy told me to stop ruining my weekend and just get on the trainer.
First 18 miles are very flat along the lake into a headwind. I was mostly alone, having shed the other 2 swimmers in transition, with the exception of the pros I had passed in the swim who came blazing by. Just before the turn into the hills, the first age groupers started to catch me. I was expecting some of these mountain goats to be really strong especially considering I had it dialed back, but they were REALLY strong. They were passing like I was stopped on the side of the road.

The first section of hills started with a nasty little climb followed by a series of climbs and descents through tiny little Swiss farming villages. It was incredibly picturesque. The roads narrowed in points to 1.5 lanes and at times split between 2 barns with no more than 12 inches of grass between the road and the barns. Most of the downhills included at least a few turns, and on rainy roads, that created more than a few tense situations.
After the rollers we approached the "Beast". This is a 2+ mile climb with grades running between 6 and 11+%. Again I kept the effort in reserve and watched a stream of people barreling up the hill. At the time I thought they were pushing the hill too hard, but seeing as they were all from Germany, Switzerland, Italy, etc. I figured out that this type of hill was right in their wheelhouse.
A quick 40+ mph descent led to the final climb in this part of the course, and this is where I had a bit of come to Jesus moment. The streams of athletes whipping my ass up the hills was sobering. It was time to re-access my expectations. It would not be a banner day.
At the top of the final climb came a nearly 5 mile descent back to the lake. The rain had stopped but the road were still wet. It starts like a roller coaster type drop followed by a series of bends and turns through a few villages. 44mph on the slick roads was about all I could muster without crapping my pants.
Back to the lake and flat roads until Heartbreak Hill. This hill is advertised as a .3 mile climb with some steep out of the saddle sections. The top is covered with spectators getting in your face Tour de France style. What was not explained that there is an additional .4 miles of nastiness before you get there. The grades at points were in excess of 15%. Brutal.

At the end of the first lap I could already feel this day in my legs, and I was dreading the Beast on lap 2. I spent the majority of the second loop trying to dig out of the hole I was riding in. On the upside, the rain had stopped, so the descents got considerably quicker.
Coming into transition, my mindset was to just enjoy the experience. I was preparing to walk/jog the rest of the day and accept the fact that my time was going to be SLOOOOOOOOOWWWW.
Transition was mostly uneventful. Again, no helpers, so I racked my own bike, found my bag and took care of  some business. That last piece required a bit of a hike as the port-a-potties were very strangely placed and way out of the way. (On a side note, Europe has no clue what "A lot of port-a-potties" are. They would have 'rows' of them, totalling 3 or 4.) Approximately half my transition  time was getting to the can.
The 4 loop run starts immediately with a climb up over a pedestrian bridge. Once I got clear of that I was pleasantly surprised at how well my legs felt. Still not wonderful, but much better than I expected. I didn't want to get carried away with myself in mile 1, so I kept the pace around 7:40 to 8:05 until some time on the road sorted everything out. The first part of each loop starts with a series of bridges, tunnels, hills, and turns. None of them were very big, but collectively it caused one to cuss outloud.
Once the turny, hilly, cussy section was over, you got your arm band (1 per lap, 4 bands and you can finish). you headed out on a flat out and back section along the lake. Approaching the far turn I saw Kona champ Pete Jacobs heading in the other direction, and it looked as though he was running slower than me. NEW GOAL: Catch Pete Jacobs on the run.
Finished the first lap averaging just a hair under 8 minute miles. Kept the same effort level for the second loop, but the legs started losing their bounce. Not so much bounce though, that I couldn't catch a certain Kona champ. Just after the first turnaround on lap 2, I came up on him assuming he's just cruising to validate his Kona spot, and hoping he would pick it up and join my pace. I could see my race pictures in my head. Run photo after run photo shoulder to shoulder with Pete. Ha! Unfortunately it didn't happen. 2 seconds after I caught him he started walking to take in some fluids. I must have just crushed his spirit with that pass.
Second loop wasn't much different than the first coming through the halfway mark at 1:46, or right at 8 min miles.
Loops 3 and 4 got progressively slower and my knee started really bothering me from the cold ride (IT Band), so I would stop and stretch every few miles to keep the knee working. I did come away with a new nugget of experience though. I have been getting light headed and a little nauseous in the last couple Ironman races and have had trouble pin pointing the problem. Today I think I figured as least part of it out. Seems as though I do much better with a little solid food in my stomach on the run. Guess it settles it some. Tried some bananas out there and felt considerably better. Every race offers a new problem to solve and hopefully the experience provides answers to past problems.
One of the great things about a 4 loop course was the ability to see friends, etc many times out there. By lap 4 I had seen everyone from our 13 person crew along with all who came to support.
Made the final turn with my 4 armbands and entered the finish chute for Ironman #8.
After you cross the line, they offer the foil blankets (It's the end of July for crying out loud. Blankets.) and then they had non alcoholic beer on tap. I do not discriminate when it comes to beer, and I have to say it was pretty good and settled my stomach.
They offered showers on site which was great since I was going to be there for a while watching others finish. That is until I got in. It was a big trailer with about 14 shower heads in about 16 feet. In other words, a tight space. Like prison tight.  Needless to say I was drying off in under 4 minutes.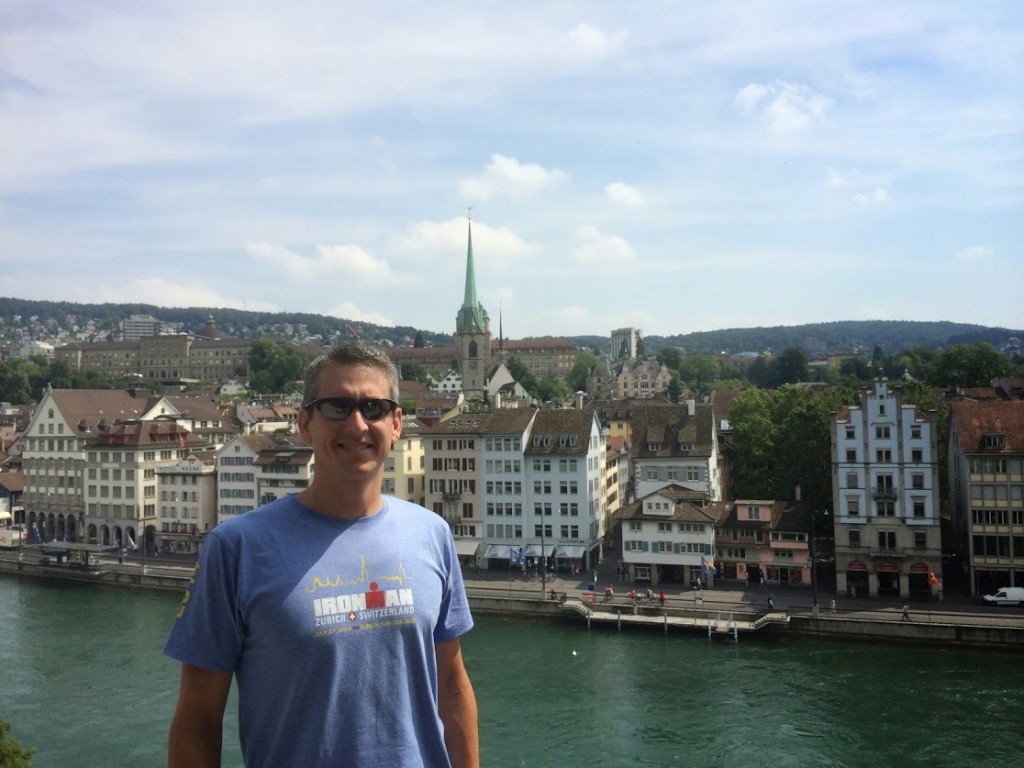 Hung out with friends for a while eating and cheering others, then got my bike and rode back to the hotel. Great experience. Not a great performance but that's OK. Leading up to the race I was asked countless times if I was trying to qualify for Kona. The short answer is always yes. Kona is a measuring stick of my performance, but it's not the end all be all for me. My lifestyle allows me to hang on the fringe of that type of day, but with a family and running 2 companies, I simply don't have enough daylight to get in the type of volume required to nail a spot everytime. And that's OK with me. There are lots of great races experiences out there that don't take place on the Queen K. This was certainly one of those experiences.
I wish I could encompass more of the week in Switzerland in this post. It was such a great trip and a great group to do it with. If you every have the opportunity to go race somewhere far away with a group of friends, I would highly recommend it. It's an experience I will never forget….and Amy is already starting to plan another one in another country. 2016 anyone?