Product Review: Nike tri shorts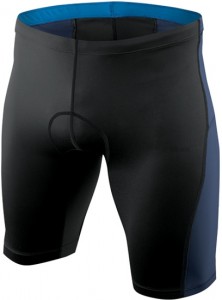 It seemed to me that this should have been an obvious fit for at least 2 decades now, but until recently, Nike has not had any apparel for the sport of triathlon. Swimming, yes. Cycling, pretty much (mostly to support Lance), and running, of course.  But for some reason, triathlon focused apparel was absent from the mix. Until now. This past summer, Nike entered the triathlon market. If you ask me they made just the right variety for a market entry. A tri-top , a tri-short, and a one piece, all in a few colors for both men and women. Knowing Nike's history for performance wear I was eager to test 'em out. Especially the shorts. The tri short is made of their Swift performance fabric. The same fabric Nike uses in their performance swimsuits and track and field competition products. Based on sizing recommendations, the fit is snug, which is how a good pair of shorts should fit. I've tried on a number of leading brands over the years, and am often surprised at how loose their size recommendations are. Compression should compress, so when I put on lycra or (other stretch fabric) and it doesn't stretch once it's on, then I know that it's been sized wrong. For the men and women, the shorts are 9 inches in length, providing good coverage and nice compression. For the guys shorts, the pad was the biggest seller for me (no, I didn't try on the girls shorts so don't ask). The Nike tri shorts come with a brushed microfiber, dual density pad that is perforated to dry quickly once you get out of the water. As I've mentioned before, most tri pads are slim and narrow as they should be, but sometimes so narrow that the stitching ends up on the pressure points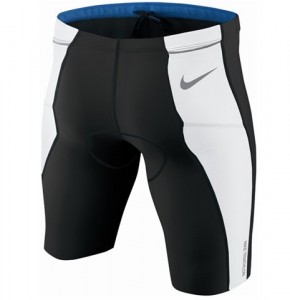 of the saddle. So the balance can be a bit of a trick. Too wide or thick and you feel it running, too narrow and the pad sets wrong on the saddle. Well, Nike nailed it. The guy's pad is wide enough that even the ISM Adamo saddle riders will feel very comfortable (and as an ISM user, that's a huge plus). Get off the bike and run and you don't even know it's there.
Additionally, the shorts have 2 small, well designed pockets that are big enough to fit a gel or two, and sleek enough that you forget they're there if you don't need em. All in all, a great pair of shorts. So great, in fact, that I wore them for Ironman Hawaii with great success. Not a single rub or problem (which may be a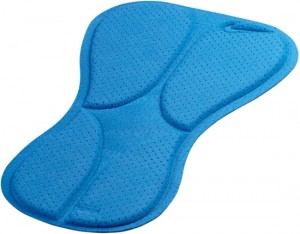 first for me in an Ironman distance race).
With this being Nike's first attempt at a tri short in over 20 years, I'm excited to see what year 2 will bring from them. Welcome to the triathlon party, Nike. Glad you're finally here.