My Rocky Relationship with the Queen
I fell in love with her the first time I saw her. I was 12 years old. Not because she was beautiful, but because of her personality. I still remember that weekend in the winter of 1987. Wide World of Sports was on and they were covering the Ironman. It was a classic Mark Allen-Dave Scott battle (of course I didn't know it was 'classic' at the time) and I couldn't stop watching. I was hooked.  I had done a grand total of 1 triathlon before this came on. The Kiwanis Kids Triathlon. After watching, however, I was ready to tackle anything. And so it began.
Jump forward to 1994.  I was swimming at Clemson University but decided to race the Buffalo Springs Lake Triathlon in Lubbock over the summer. My preparation time was short because of swim obligations but very dedicated once those ended(I mean come on, I'm IN COLLEGE. Not like free time was scarce.) That race turned out to be one of the hottest race days on record (108 degrees). I was able to race a 4:29 and picked up a slot to Kona. Only problem was, I was on scholarship and they would have none of it. Hawaii would just have to wait.
In 1997, I was in my second season as a pro, and I actually qualified for Kona twice that season. FINALLY! It was time to meet the queen, who I'd been obsessing over for a decade now. And I would be ready. Afterall, I had no 'real' job. I trained all day. Unfortunately though, that turned out to be one of the problems. I was training like a fool at altitude and by late August, I was borderline anemic. Throw in a couple trips to the other side of the world to my diet and I was pooped. Nonetheless, with the help of Phil Maffetone, George Dallam (the US National Triathlon Team Coach at the time) and UT's Eddie Reese, arguably the best swim coach that has ever stepped on the planet, I prepared for Kona they way a 23 year old should. LIKE CRAZY.
I finally met her in October of '97, and I'll be honest, she was in a pissy mood. The 1997 Ironman has gone down as one of the toughest Kona races in history. From Ironman.com:
"Thomas Hellriegel leads a trifecta of Germans first across the finish line in race conditions that longtime Ironman competitor
Scott Tinley calls the toughest ever. Strong and steady headwinds averaging 30 mph slow the bike and cloudless skies with temperatures in the low 90s combine to produce the slowest finish times in a decade. The conditions set the stage for the biggest surprise victory in the history of the women's race as Heather Fuhr of Canada, renowned for her ability to handle the heat, runs nearly 15 minutes faster than any of the top five women to claim her first Ironman title in 9:31:43."
(http://ironman.com/mediacenter/history/ironman-triathlon-world-championship#axzz1ShcxRdim)
If memory serves there were only 11 men to break 5 hours on the bike, and the conditions caused names like Natasha Badmann, Paula Newby Fraser, Tony Deboom, Holly Nybo, etc. to drop out. This was also the year of Chris Legh collapsing 50 feet from the finish (ever see that Gatorade commercial?). You also had on the women's side, the crawl for 5th place between Sian Welch and Wendy Ingram (Here).
I finished that day. Barely. The cramping began around mile 25 for me on the bike. first in the the glutes and then in the feet.  I cried on the bike. Literally cried. The run started much better, but trouble began again around mile 13. Where was mile 13 in 1997 you ask? Well it was essentially the entry point to the Queen K. Yes, the Queen. I've discussed various aspects of that race here before, but to give you the quickie version, my body was shutting down. I finished that day in 10:23, but I don't remember the last 3 miles very well. After crossing the line, I began losing my vision and started going into shock. After a few hours with the medical staff, I went home, tail firmly between my legs.
Fast forward to 2006. I had since left my pro career behind me and signed up for Ironman Arizona more to lose weight and get fit than anything. The race went well and I qualified again. It was time to see her again and make things right. This time was different though. My goal wasn't to kick ass and take names, rather to enjoy the experience of Kona  and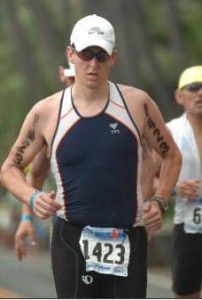 have a finish down Alii Drive that I could remember.
Day started well enough. I had an easy but relatively slow swim, and the first part of the bike was going great. I was enjoying my day. This was also the year of the Hawaiian earthquake 1 week before the race. No major damage in town but small sections of the bike course were closed because of damage. It also left tiny shards of lava rock on the course. Unfortunately for me, I was able to pick up a few in my tire, causing the first flat in my race history. Not a huge problem as time wasn't the goal. Got fixed up and finished the bike in good spirits.
Then came the run. I still don't really know what went wrong that day. Sometimes I think sun poisoning, sometimes overheating. Just not sure. But in the few miles running on the Queen K, I went from good to bad and bad to horrible. By mile 18 I could no longer run. Not a step. Not because I was tired, but because I felt so sick I thought I might pass out if I tried. Walking a straight line was a challenge at times. I did a lot of praying that day, and somehow I made it back into Kona. As I made the final turn to Alii Drive the skies opened up and it started to absolutely pour. Every spectator ran for shelter. I got to the last 100 yards and was greeted by the town bum. Yes, you read that right. The town drunk/vagrant/bum/hobo/homeless guy, whatever you want to call him, was there insisting he help me to the finish. So I finished the 2006 Hawaiian Ironman in a downpour, no one around, with a bum. Magical ain't it?
I'm not real sure why it is, but I still can't wait to see her. And THIS time, its going to be a great experience. 3rd times a charm right? I just hope the Queen is in a good mood.
Aloha.