Ironman Texas
Below is the long, way too detailed version of Ironman Texas 2011. I write these more for myself than for others, as I try to note events/stats that will help me remember and correct for the next race. But some people enjoy reading. Let the record show that you were warned.
Got up about 4am after poor night's sleep. Since I live less than 2 miles from transition, prerace was a snap. 3 hard boiled eggs and a small cup of coffee. Previously I have tried to stuff more food down my throat, but it seems to just make me uncomfortable. Mixed up all my race drinks (perpetum and pure sport) and headed over to transition. Being a local was a big help because we knew the good places to park that no one knew about. did my thing with the bags bottles and tires and started walking to the start with Amy.
Event warmup: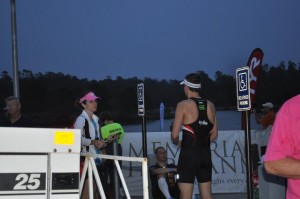 Because of the narrow boat ramp and the fact that they had to separate the wetsuits users from the non wetsuit users, they started letting people in the water around 6:40ish. I was sure to be right up front so I could get in and warm up some. Was able to swim easy for about 10-15 minutes before I had to go fight for positioning.
Swim
Since the water wasn't wetsuit legal for any form of consideration other than being a finisher, there was a mix of wetsuit and non wetsuit swimmers. At first I didn't really care because I didn't think I would really be affected, but as the start got closer I noticed a number of wetsuits pushing their way to the front of the start. A quick glance at the equipment they were using told me they were about to get maimed when the gun when off. (Sounds a bit presumptuous I know, but just like seeing a cyclist in tennis shoes, it's often easy to pick strong/weak swimmers out of a crowd based on their equipment choices). If they weren't wearing the rubber courage, I guarantee they wouldn't be in front elbowing me for space. Translate this through the entire field and I would say that this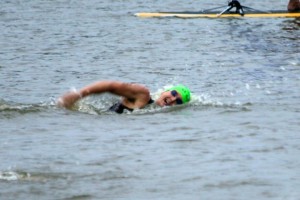 was probably a more congested/violent swim than it needed to be. I'm a big fan of the mass start, but if they're going to allow 2 sets of rules, perhaps a two wave start would be safer.
Anyway, the gun went off and I hit the gas for a good 20 seconds. I Looked both ways and saw I was leading so I immediately throttled back and worked to settle into my pace. Because of a little mishap working on my bike, breathing to the left was a bit of a challenge because of some lingering soreness/swelling. For this reason, I did very little breathing to the left, and I paid for it. What I didn't notice was that the two people I was looking for were about 20 yards to my left and slowly passing me. When I finally noticed I tried to move over and catch some feet, but it was too late. Stupid tactical error. I ended up swimming about 25-35 yards behind them alone for about the first 1.8 miles, give or take. At that point I started feeling a little tired, which is something I never feel in the swim. I knew then that my fitness wasn't nearly where it should have been. Work leading up the race was extremely busy, and swimming is the first workout I cut when I'm pinched for time. So now I had to pay for it. The 2 in front of me started really gapping and I just focused on staying smooth through the canal. The swim course by the way was really great. The last half mile swimming through the canal, there are people on both sides cheering you on. Very cool. Time: 52:24
What would I do differently?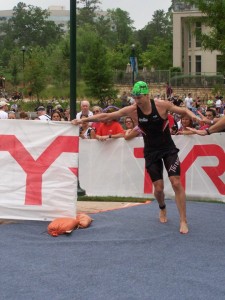 Train more, plain and simple. And don't getted jacked in the jaw with your bike the week before the race.
T1
My MO in transition is to keep it simple. More stuff to do/think about means more things to screw up. So I got out, ran to my bag and then to the tent. Off came the Torque and on went the helmet and shoes. Passed one of the swimmers that finished in front of me and a pro male in transition. Time: 2:10
Bike:
Hopped on the bike and passed a male pro in the first mile. Once he got adjusted though he took off and out of sight like I was just learning to ride a bike. Because of my limited time to train the bike and therefore relative weakness in this event, I expect to see stronger cyclists begin to pass me by about mile 5. I was riding a bit quicker than usual this time I guess. Not sure if it was more fitness, better set up or what, but mile 5 came and went and there was no one behind me. Couldn't see anyone. Then came mile 10, then 15, then 20. Still no one. What the? The fastest swimmer was off the front, so I'm sitting second overall and rolling through mile 25. Then 30. Then 35. At this point there were 2 athletes rolling up on me. Ok, here comes the train of cyclists. As they passed I realized that it was a pro male with a pro female drafting him (blatant I might add). So I was still in 2nd. It wasn't until right before mile 40 that the first amatuer passed me. I was surprised it took so long, but I was riding right at a 5 hr pace so I guess in hindsight it makes sense that it would take a little longer for everyone to catch up. A few miles later the second guy came by, and as he did he asked, "Do you want to take turns taking 2 minute pulls?" I looked at him like he just offered to lick my toes. He then quickly added "legal pulls". Whatever dude. I might have a slow bike time, but it's legit. Slowly the cyclists then began coming, most all clean, but a few wheel suckers. Somewhere around mile 50 we came into an area that had just received a heavy rain, and the roads were soaked. I train this stretch every weekend and knew that the tar/oil with the water was going to make this section extremely slick, so I s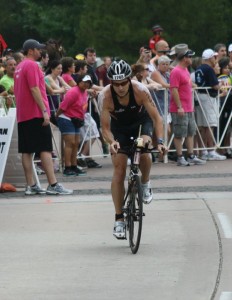 lowed way down. (I later saw a few riders with some healthy road rash and torn clothes, so my assumptions seemed to be confirmed.) I crossed the halfway point around 2:34ish and in 7th overall. I kept a keen eye on my heart rate the entire way and made sure the I kept the legs well in reserve. Even on the few hills I kept the effort so that I had 2 gears left in me. In terms of nutrition, I was drinking 1 bottle every hour, a saltstick tablet about every 30-45 minutes, and drinking the perpetum bottle as needed. 6 months ago in Ironman Cozumel I drank 1 bottle every 30 minutes and ended the ride feeling bloated and struggled with stomach issues on the run a bit because of it. This seemed at first to work much better, especially because the first few hours of the bike were under an overcast sky. The clouds actually made me rethink the hydration a little as at times it felt downright comfortable outside. That turned out to be a bit of a mistake as I would find out later.
Coming back to The Woodlands there was a bit of a headwind, but nothing to complain about. I went through a few rough patches where the back/neck would get tight, but otherwise a pretty consistent ride. Felt pretty good once I got back in the Woodlands, and the crowds on every corner certainly helped. Hear rate consistant throughout, with about a 5 beat rise in the last 10 miles or so. That was a tell…
Time: 5:15
What would I do differently? Drink a more balanced mix of water and Perform. I drank about 90% Perform, and what I thought was a bloating feeling was actually a mild case of sour stomach. Next t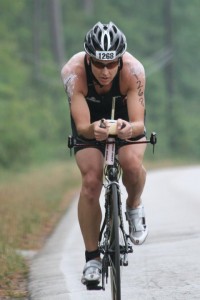 ime I will probably alternate bottles so I can help fix the hydration challenge.
T2
Rolled in, handed off the bike and ran to the tent. When I sat down I thought to myself, "take your time and get everything right for this brutal run". Was a little surprised that it was still a 3 minute transition. I thought I sat there for a while. oh well. Time: 3:00
Run
The heat and humidity hit me like a wall. This was my 5th Ironman, and each one I have done has been in temperatures above 90 degrees. Having said that, this run felt the hottest. I knew immediately I was in trouble. I kept slowing down and the heart rate kept climbing (even though RPE felt the same). About a half mile in, my breathing started feeling shallow, like an asthma attack was coming. It was at this point that my mind started debating whether I could finish. I immediately kissed Kona goodbye. This was my hometown race and I wasn't about to drop out in my backyard. As I ran up to the mile 1 aid station, I kept telling myself, "this is the unplanned problem for this race, just figure it out". Got to mile 1 in 7:40 and hit the port-a-can. Immediatley figured out problem #1. I'm dehydrated. So I stopped at the aid station and started taking in A LOT of fluids. Jogged very easy to the next aid station and repeated the hydration. Struggled this way through the 4th aid station. Then slowly I was able to run at a steady pace again. Things started turning, even if slowly. Ran through a couple of aid stations and then started fighting the overheating. So I dedcided that since a Kona slot was out, I would walk through the aid stations and get as much ice on me as I could find a spot for. Chest,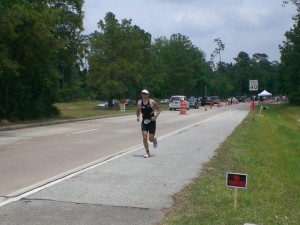 back, groin, and held a handful in each hand. This run was frickin hot! I have never seen so many pro's walking. I actually passed a few on the run (ok, ok, they were a lap ahead of me but I still passed them technically!) Somewhere around mile 13 I got an update from a friend. He told me that the last update showed that I was 9th in my AG. So I thought back to where the last checkpoint would have been that was already on the internet and it was a good chunk back (maybe mile 8 or 9?), but I did start noticing that I wasn't really getting passed much out here. I really couldn't believe it. I was having a horrible run and running at what felt like a snails pace. So I guess everyone was suffering too, and I'm still in this race. Of course heat management was priority, but now there was a little more urgency in my step. Started the 3rd lap and life started getting confusing. I had to try and figure out if the person that was passing me was on their first, second or final lap. (On a side note, the crowds on the run were fantastic, especially on the waterway. Huge props to the director for designing the run course.). When I got to the turnaround (at Landry's) I forced myself to up the pace as I noticed I was closing in on a competitor in my AG. Made the turn into Market street and soaked it up best I could. Great finish area set up by the way! Time: 4:01
What would I do differently? Start the run well hydrated.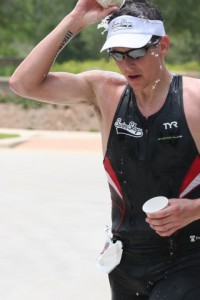 My warm down amounted to zero. Almost passed out about 10 minutes after the race while talking to friends and family, so I spent a few minutes with the docs, drank some chicken broth and then headed for home. On the way out I heard from a couple of people that I finished 11th. The prerace predictions were that 11 slots would go to my age group (the largest age group starting). So it was just a matter of waiting until morning to see if it would be official. Went home, had friends come over, drank beer and ate pizza. The next morning I got my confirmation that it was indeed 11 slots and got my golden ticket to Kona! This will be my 3rd trip there, and I haven't had the best history in Kona (more on that another time) , so my goal is to actually experience the legendary Kona finish, even though I finished both times.
Of course if I trained for the swim a bit more I might be able to…well….we'll have to wait and see 😉
**Photo's taken off of Facebook via firends who took the pictures. I would like to thank them and If any of the pictures need to be removed, just let me know.***