Open Water Swimming in February at Barton Springs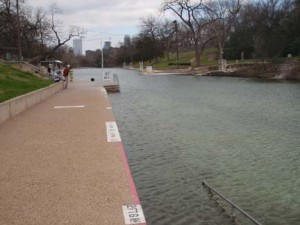 I love Austin. What a great place to train. Tons of trails, great roads to ride, the hill country, bike lanes through downtown and beyond. I love it. One day I'll find a way to have a home in Austin and Colorado.
Yet another reason why I love Austin so much is Barton Springs. It's a spring fed 'pool' that stays about 68° year round. I was in Austin this last weekend and had some free time, so I went for a run on the trails followed by a swim at Barton Spring. The air temp was in the 50's, so it was a bit chilly without a wetsuit, but not unbearable. The length was roughly 220 yards in each direction, so I think it's a perfect training ground for open water racing. On this particular day the wind was blowing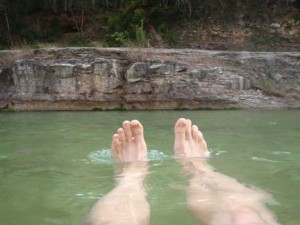 pretty strong to the east, so I had a great time going out, and actually had some chop on the way back. For those who have never raced in open water or feel you need the practice, this is a great place to build some confidence. You're never more than 30 yards from the side and the length is more than you will experience between buoys in a race, so it's a good place to see how straight you swim and how well you navigate.
I also wanted to post this up here with some photos to rub it in a little to some of those who read badig from the northern states (who are buried in snow!) and those who read this from across the pond. I know that the karma will come back around in July when I'm suffocating in heat and you guys have nice weather, but I'll deal with that then. If you are ever in Austin, swing by Barton Springs Pool and give it a try. $3 in the su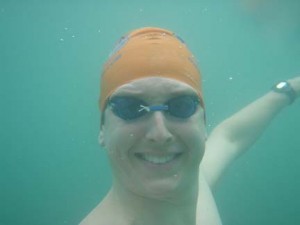 mmer and free in the winter (because they don't charge the insane). More info here:  http://www.ci.austin.tx.us/parks/bartonsprings.htm
Happy Training.